The Best Bat Control In Lake Oregon, MI
Bats require special attention when they mistakenly find their way into homes. They are recorded on the state's endangered or threatened species list in Michigan, therefore it is illegal to handle them without proper licensing and technique. Here at Wells Pest Control, we offer a specialized bat control service that is both humane and effective at eliminating bats from your Lake Orion home.
Are Bats Dangerous?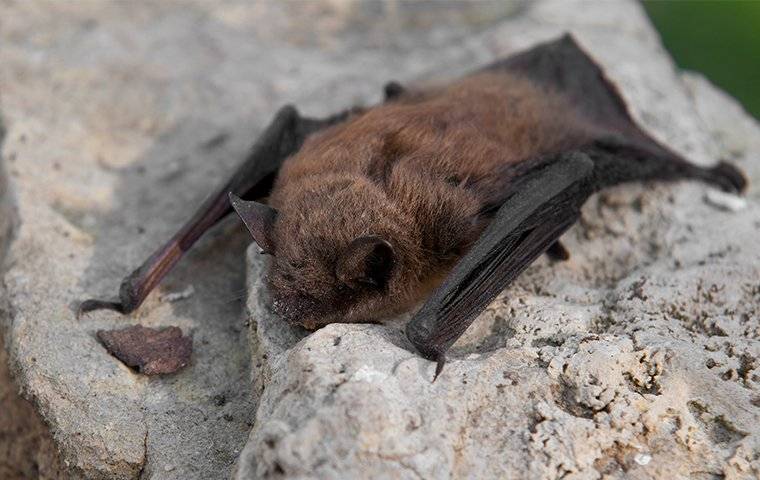 The biggest concern homeowners have regarding bats is not knowing if they are rabid. The good news is that less than ten percent of bats have been documented as becoming rabid. As a matter of fact, bat droppings are the most significant threat to your home and health. How can bat poop be so dangerous?
The sheer weight can cause collapse: A single bat produces 20 - 30 droppings per day. A bat colony living in your attic could cause your ceiling to cave in from the number of droppings piled up inside.
It is known to attract others: Cockroaches are attracted to bat waste and the scent encourages other bats to join.
It threatens your health: Fungi that grow in bat feces are a serious health threat to humans. The fungi can cause a lung disease called histoplasmosis which can be fatal if left untreated.
On top of all the dangers bat waste threatens your home with, they are also a host for bat mites and bat bugs, which are known to bite humans. Bats in your attic are bad news.
Our Bat Control Process
A bat infestation in Michigan is a serious matter and should be dealt with promptly. Bats are a protected species in Michigan; therefore, only licensed professionals are allowed to remove them from your home. Furthermore, bat waste should be decontaminated and removed by trained professionals to minimize health risks.
Our treatment plan covers all the bases and will efficiently rid your home of this nuisance.
Inspection
To start with, we will conduct an inspection of the attic to determine the number of droppings and what control methods are appropriate for your particular space. Next, we will inspect the exterior in order to identify entry points.
Treatment
Once we complete the inspection, we will use our findings to determine the best treatment plan for you. We will install a one-way exclusion door at one entry point and seal all the others to force the bats into the trap.
Follow-up
When you are no longer experiencing bat activity, we will come back out to remove the one-way exclusion door and seal the final entry point.
Warranty
Our services include a five-year warranty, so you can confidently invest in our services knowing that they will withstand the test of time.
Get Started With Effective Bat Control In Lake Orion, MI
Our efficient pest services in Michigan are the best in the business. We take great pride in our vast knowledge of area pests and the leading techniques for their prevention and removal. Contact Wells Pest Control today to schedule your free inspection. Once the inspection is complete we will also put together a free estimate and treatment plan that will best suit your needs.
Protect yourself, your loved ones, and your property by partnering with Wells Pest Control. We look forward to helping our Lake Orion neighbors. Learn more about our home pest control and commercial pest control solutions by reaching out to us today.
Request Your Free Quote Today
Complete the form below to schedule your free quote.