Are Yellow Jackets In Lake Orion Something To Take Seriously?
7/15/2022
During the summer months, a variety of stinging insects, including yellow jackets, paper wasps, bald-faced hornets, and mud daubers, are most active. The majority of these flying creatures play an essential role in the ecosystem, such as with pollination; however, these pests also can pose health risks to local property owners. Experts categorize stinging insects as either social insects such as paper wasps or solitary insects such as mud daubers.

Wasps are among the most prevalent stinging insects that establish nests on local properties and may pose safety concerns for those performing yard maintenance, enjoying a barbeque, or participating in other outdoor activities. More than 30,000 wasp species are reportedly found throughout the world today, which includes yellow jackets (Vespula spp.).

The German yellow jacket (Vespula germanica) is a type that constructs nests in enclosed cavities, attics, or crawlspaces. The Eastern yellow jacket (Vespula maculifron) and most other species create below-ground nests—often in preexisting burrows.

Have yellow jackets established a nest on your property? A trained Lake Orion pest control professional understands the many different types of yellow jackets and how to repel yellow jackets efficiently from your property.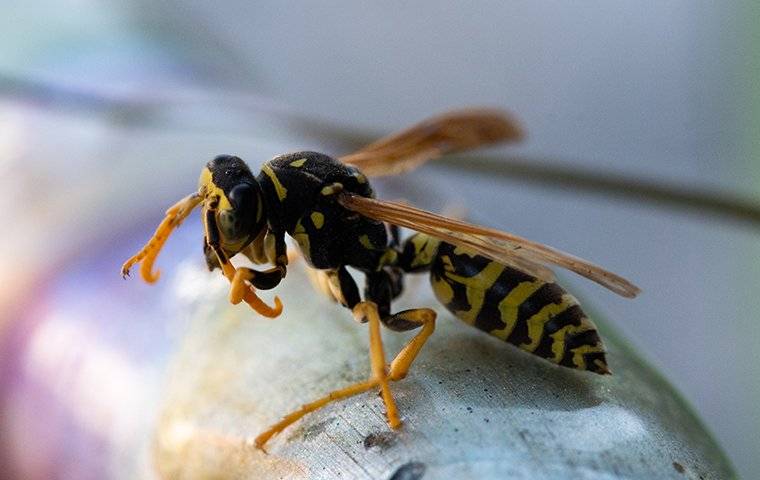 Is This A Yellow Jacket?
Unlike bees that usually have some hair and a more rounded body style, wasps such as yellow jackets generally have a sleek, elongated style of body. Yellow jackets typically measure between 3/8 to 5/8 of an inch in length and have six legs, antennae, and yellow and black colors. Yellowjackets have a very thin "waist" that connects their abdomen and thorax.

Yellow jackets routinely build nests near residential properties. The above-ground nests that yellow jackets create are usually composed of cellulose that has a "papery" appearance, and you can often see them below overhangs or in attics.
Yellow Jacket Behavior And Potential Threats
What do yellow jackets typically eat? Yellow jackets primarily consume flies and other types of small insects. Yellowjackets commonly invade picnics, attracted by meats, fruit, and sweets.

Many individuals have allergies to stinging insects and might need prompt medical attention after enduring a sting. Keep in mind that yellow jackets often defend their nesting sites aggressively in groups, and these pests can deliver multiple venomous stings.

Are yellow jackets beneficial to the overall local ecosystem? Yellow jackets may assist with the pollination of flowers, and they also help to reduce the population of grubs, beetles, and other undesirable pests.
How To Get Rid Of A Yellow Jacket Nest?
What are some ways of preventing and eliminating yellow jacket nests? Consider some of the following best practices:
During the spring, look around the property for any potential nesting sites. Fill in any holes or burrows that exist in the ground, repair any holes or voids in siding, and fill cracks with a durable caulk or sealant.
When placing trash bags outdoors, always keep them in durable receptacles with functional lids.
Thoroughly clean up all food scraps, spills, and packaging materials after picnics or barbeques in yard areas.
Mow the lawn regularly and remove any tall weeds or other overgrown types of vegetation.
Consider alternatives to fragrant flowers, including citronella, thyme, or basil, that are less likely to attract these pests.
Property owners are strongly encouraged to seek assistance from a licensed home pest control in Lake Orion, MI professional based on the potential health risks that yellow jackets and other stinging insects pose.
Wells Pest Control: Effective Yellow Jacket Control In Lake Orion
The leading experts with Wells Pest Control provide yellow jacket pest control services for customers in this region. For more than 15 years, our specialists have assisted clients plagued by stinging insects, ants, cockroaches, rodents, and many other noxious pests. Contact our office today to schedule an onsite property assessment.